Atari Connexion 2006: the subscription is opened!
Paris the 25th of February – In two month will begin ATARI CONNEXION 2006 its doors open. This convention is a new start for the Retro-Gaming Connexion Association leading team. From now on, two conventions will be in the annual news.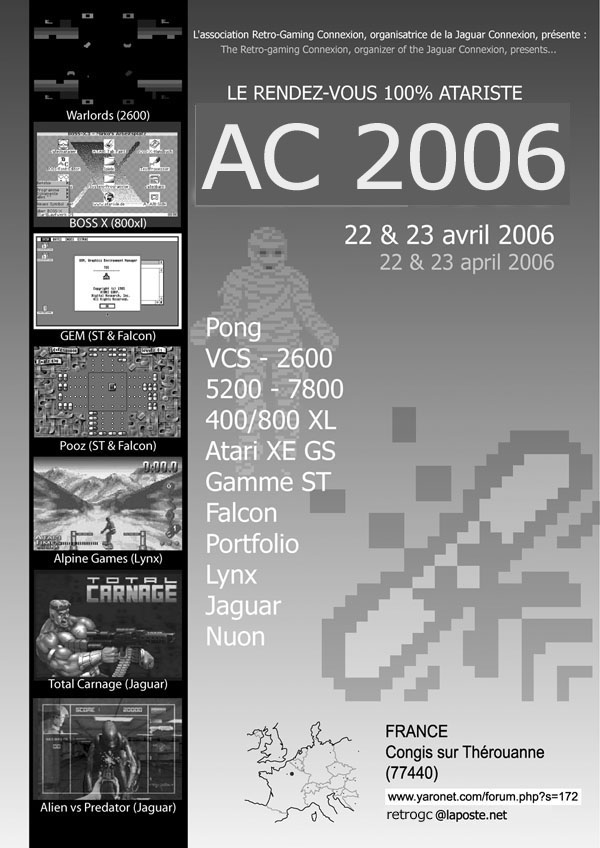 The ATARI Connexion, once known as the Jaguar Connexion, will be blessed under the sign of the holy Fuji. For one Weekend (22th & 23 th April) join us in the little town of Congis sur Thérouane (near Paris) to revel in the Atari universe. The community is still alive and it will show you its newest creations for Jaguar, Lynx, VCS, ST and Falcon and also Nuon.
Just like every other year Nick Harlow of 16/32 Systems Webshop will be there from England to celebrate with us the French ATARI Fest of the Year, but he won't be alone! Rodolphe czuba will come with some of his amazing CT63s, the Jagware Team will be there with their first production: the new standard of the Atari Jaguar : the JagCF. But the other machines won't be left out, new games on Lynx, Falcon, Nuon will be presented. Meal, tournaments and a good atmosphere are all included in the ticket.
A complete List of our guests and their products will be shown on this Thread and regularly updated.
The places are limited so please fill in this form, all the information you will need is written there.
http://mleguludec.free.fr/ac2006en.pdf
To take Adobe Acrobat, you can download on officiel web site

We remind you that the general Retro-Gaming aspect has been removed from the Atari Connexion. At the end of the Year the Retro-gaming connexion will be organised to explore this.

ETA two month! Will you be there ?

The Retro-Gaming Connexion Association
Web site: www.jaguar-connexion.fr.st
Contact e-mail: